SJSZ Conical Twin Screw Extruder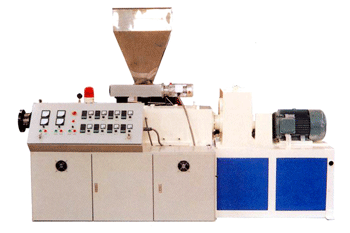 The SJSZ series conical twin screw extruder, with relevant screw and accessories, can extrude thermoplastics especially the rigid PVC directly into the pipes, plates, sheet, film and profile, etc. and it can also do the modification of the plastics and the palletizing process for the powder.
The machine takes DC motor, with silicon control stepless speed regulating. It is equipped with overload protection, error alarm, oil circulation with constant temperature in bar core, barrel cooling, vacuum gas discharging pipe and constant feeder.
Technical Parameter


| | | | | | |
| --- | --- | --- | --- | --- | --- |
| Type | Screw Length (mm) | Screw Dia. (mm) | Screw Speed (rpm) | Motor Power (kw) | Capacity(RPVC) (kg/h) |
| SJSZ35/80 | 800 | 35/80 | 55 | 11 | 10-50 |
| SJSZ45/90 | 990 | 45/90 | 45 | 15 | 20-80 |
| SJSZ55/110 | 1195 | 55/110 | 35 | 22 | 50-160 |
| SJSZ65/132 | 1440 | 65/132 | 35 | 37 | 100-250 |
| SJSZ80/143 | 1800 | 80/143 | 35 | 55 | 200-400 |

Related Keywords: buy conical twin screw extruders, conical extruders China, conical twin extruders for lastics and pipes